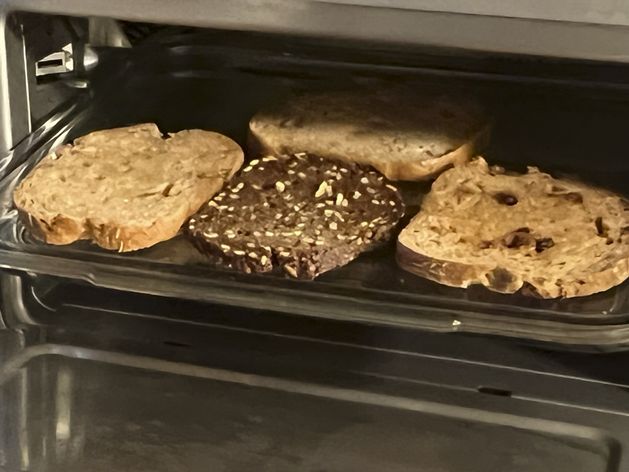 CUSTOM COOK
SLICED frozen SOURDOUGH top Zones 1&2 glass tray
Key: HNH-EWH-JMU
About this Custom Cook
This cook uses the glass tray on the top level.
Preparation:
Spread a layer of Brava made ghee in zones 1 and 2.
Place your sliced sourdough bread slices in zones 1 and 2. Any position and orientation is OK. You do not have to fill the zones. You can make 1 slice or more. I usually make 2,3 or 4 slices.. Your slices can cross over into zone 3 by about an inch if necessary as some varieties are wider and need a bit more room depending on the flavor(s) you are using and the quantity of slices you are making. The buckwheat typically has narrower slices while the original flavor is wider. And yes, you can make different varieties at the same time.
For added flavor, after you have placed your slices on the tray, drizzle a small amount of ghee onto the tops of the slices. Or if you prefer, brush the tops of the slices with ghee.
Insert the tray into the Brava, top level. Close the door, press start. Cook time is about 9 minutes.
AFTER The Cook Completes:
Carefully remove the tray from your Brava using high quality heat resistant gloves. Using tongs, place the slices on a wire cooking rack. Leave them on the rack to cool for about 3-5 minutes. This step allows the exterior surface to become crispy. The interior will remain soft and moist.
Enjoy!