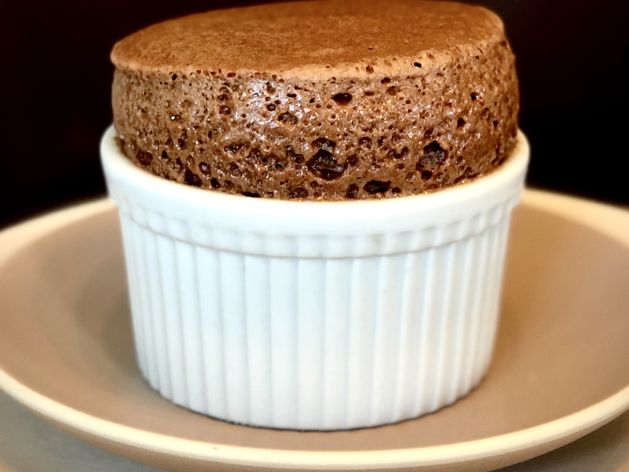 CUSTOM COOK
Flourless Chocolate Soufflé
Key: HEY-HTK-HME
About this Custom Cook
Restaurant Gary Danko in San Francisco is famous for it's flourless chocolate soufflé. I spent over a year working pastry at Restaurant Gary Danko, each night making batch after batch of this iconic French dessert. It is a privilege and honor to adapt this recipe for Brava users. You will need 5-6 eggs total to yield the required amount of egg whites. It is important that you use 6 oz ceramic ramekins for this recipe, otherwise cook times may need adjustment. It's important to work very quickly once the soufflés are cooked. They will fall quickly after removing from Brava.
Active time: 20 minutes
Cook time: 15 minutes
Total time: 25 minutes
Equipment:
Brava metal tray
4 (6oz) ceramic ramekins
electric stand mixer or hand mixer
mixing bowls
1-2 tablespoons softened butter (for greasing ramekins)
2 tablespoons plus 2 teaspoons granulated sugar (plus more for dusting ramekins)
3 egg yolks
2 oz butter
2 oz dark chocolate chips (preferably 63% or higher)
1/2 cup plus 2 tablespoons egg whites, preferably at room temperature
Crème anglaise or vanilla ice cream, for serving
1. Using your hands, butter inside of each ramekin with softened butter. You may have some butter left over.
2. Sprinkle about 1/4 cup granulated sugar into one of the ramekins. Tilt and twist the ramekin until the sugar coats the entire inside surface; tap excess sugar into next ramekin and repeat until all ramekins have been dusted. Discard excess sugar.
3. In bowl of stand mixer (or small mixing bowl with hand mixer), beat egg yolks with 2 tablespoons plus 2 teaspoons sugar on medium-high speed until pale yellow, thick and forms a ribbon (2-3 minutes).
4. Meanwhile, using microwave or double boiler, melt butter and chocolate chips together.
5. Stir melted chocolate and butter into egg yolk mixture and stir well; set aside.
6. In a clean, large bowl (using stand mixer or electric hand mixer with whisk attachment), whisk egg whites until soft peaks form.
7. Using spatula, transfer about 1/4 egg whites into egg yolk mixture and fold gently to lighten the yolks.
8. Transfer lightened egg yolk mixture into large bowl with remaining egg whites and gently fold until just combined; do not overmix.
9. Transfer souffle mixture to individual ramekins. It's important to overfill each slightly. Using a flat or offset spatula, scrape excess soufflé mixture from top of each ramekin. The soufflé mixture should be flush with the rim of each ramekin. You will have some soufflé mixture left over.
10. Pinch index finger and thumb together and slide around the rim of each ramekin. Creating this "groove" will ensure a perfectly flat top.
11. Using a damp, clean paper towel, wipe off any soufflé mixture from outside of ramekin.
12. Press green button to begin preheating for 4-5 minutes.
13. Meanwhile, place ramekins, evenly spaced apart, on Zones 1, 2 and 3 of Brava metal tray.
14. When Brava is preheated, slide metal tray into bottom shelf and press green button top continue cooking.
15. When the timer is done, carefully transfer soufflés to individual serving plates. Using a spoon, crack a hole in the top of each soufflé and pour in some crème anglaise or a scoop of vanilla ice cream; serve immediately.