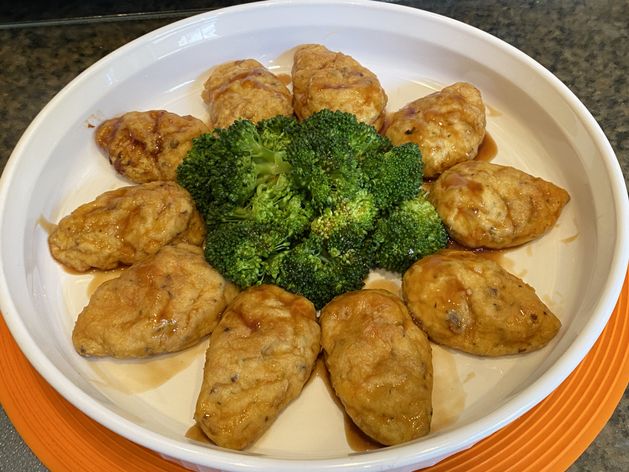 CUSTOM COOK
Pipa Tofu

Key: FYY-RXR-XHK
About this Custom Cook
Ingredients:
- 4 dried shiitake mushrooms (soaked in 1cup water, save the water for sauce)
- 12 small shrimp peeled and deveined
- 1 pack medium firm tofu
- 1 tsp finely minced ginger
- 1 tsp finely minced parsley
- 1 tsp finely minced garlic
- ¼ tsp salt
- ¼ tsp white pepper
- 1 tsp sesame oil
- 2 tbsp cornflour
- 1 egg yolk
The sauce:
- 1 tbsp Oyster Sauce (or Stir-Fry Sauce)
- ½ tbsp Soy Sauce
- 1 tsp Dark Soy Sauce
- 1 cup mushroom soaking water
- cornstarch slurry (1 tablespoon cornflour + 3 tablespoons water)
Method:
1 - Soak the shiitake mushrooms in 1 cup of hot water for a minimum of 2 hours, then drain, reserving the soaking water. Finely chop the soaked mushrooms.
2 - Flattened the shrimp with the side of the knife and chop it up until it becomes paste like.
3 - With paper towel press the water out from the tofu and crumbled it up with your fingers.
4 - In a big bowl combine the ground shrimp, tofu with garlic, ginger and parsley. Season with salt and pepper and sesame oil. Use a fork or chopstick to stir and mix all the ingredients well, creating a thick paste. Add the cornflour and egg yolk and mix well.
5 - Put 2 - 3 tablespoons of cornstarch or flour in a container.
6 - Spray oil on the Glass Tray.
7 - Scoop a big tablespoon of the tofu mixture and lay it on the flour container and coat it with the flour. Use you hand and shape it like a pear and place on the Glass Tray. Repeat with the rest of the tofu mixture.
8 - Spray oil over the Pipa Tofu. Place the Glass Tray on the top rack and press the Green Button
9 - Mix the sauce ingredients together in a bowl. Pour the sauce into a sauce pan and bring to the boil. Stir the cornstarch slurry into the sauce and bring to the boil and thicken.
10 - When Brava notifies, remove tofu, dip it in the sauce to coat. Then place onto serving dish. You can serve with Broccoli or Bok Choy and Rice.