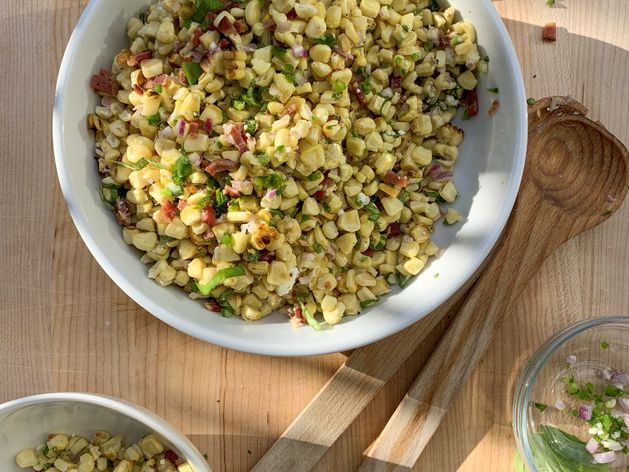 CUSTOM COOK
Charred Corn Salad with Bacon and Jalapeño
Key: FXL-AFJ-YKE
About this Custom Cook
This charred corn salad with crispy bacon is a complimentary dish to any Summer menu. Corn, crispy bacon, and creamy feta come together for a savory dish. I add fresh jalapeño, shallot, lemon, and basil to liven it up and it's my perfect Summer salad! This kind of dish typically requires a grill, but because Brava's lamps can heat up so quickly the corn gets nicely charred. Feel free to swap in arugula, cilantro, or green onion in place of basil.Omit the bacon to make this vegetarian.
Ingredients:
4 Slices of bacon, cooked, diced up into crispy bits
6 Ears Corn, husks removed
½ Tablespoon Olive oil, plus ¼ cup olive oil set aside
1 Small seeded jalapeno
1 Small shallot, finely chopped
3 Tablespoons fresh basil (or cilantro, arugula, or green onion)
¼ Cup crumbled feta, cotija, or goat cheese
Juice of ½ a lemon (or lime)
1. Toss corn with ½ tablespoon olive oil, arrange on Brava Metal Tray, season with kosher salt, and place on top shelf.
2. Follow recipe instructions for "Charred Corn + Bacon Salad" on your Brava screen and press the green button.
3. While the corn is cooking in the Brava, prepare rest of ingredients as needed and set aside.
4. When corn is done cooking, slice kernels off of the cob, and transfer to a large serving bowl. Mix with additional ¼ cup olive oil, diced up crispy bacon, seeded and diced jalapeno pepper, thinly sliced shallot, fresh basil, crumbled feta, and fresh lemon juice.
5. Season generously with salt and cracked black pepper, and taste and add more seasoning as needed.
6. Serve! This salad keeps well in the fridge and can be served fresh while warm, at room temp, or cold.