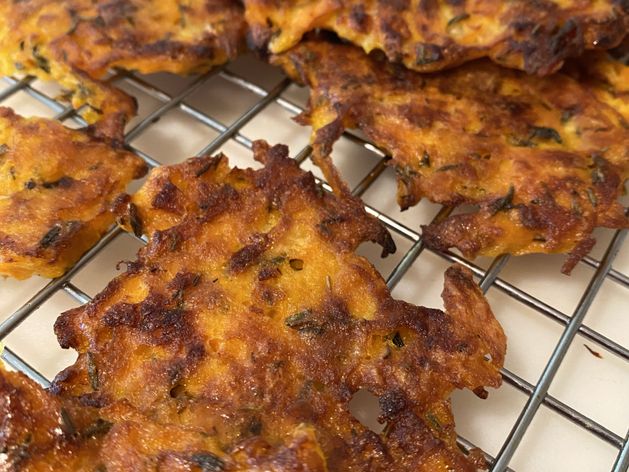 CUSTOM COOK
Butternut Squash Latkes
Key: FWN-XHP-WNK
About this Custom Cook
Ingredients:
12 oz. butternut squash
½ medium onion
1 egg
1 tablespoon all-purpose flour
1/2 tsp. dried thyme or sage
1/4 tsp. salt
Cooking oil
Instructions:
Grate butternut squash and onion using a coarse grater.
Place butternut squash and onion in center of clean kitchen towel (or double layered paper towel). Using both hands, squeeze out as much liquid as possible.
Transfer butternut squash and onion to a medium bowl and add egg, flour, thyme and salt. Mix together.
Evenly drizzle ¼ cup cooking oil on Brava metal tray.
Place 9 piles, evenly spaced apart, in Zones 1, 2 and 3 of metal tray.
Using your fingers, pat down and spread each pile into a thin layer, making sure latkes don't touch each other. You will have 3 rows of 3 latkes.
Slide metal tray into top shelf.
Press green button and follow instructions.
Note: You will flip the latkes after 8 minutes to cook it on the other side for another 3 minutes.