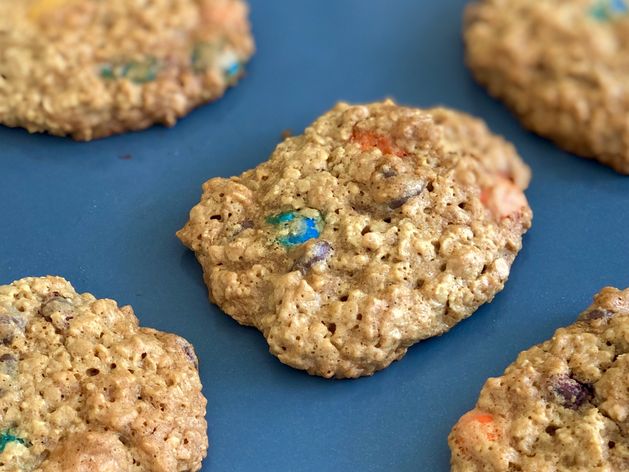 CUSTOM COOK
Gluten-Free Monster Cookies
Key: FTP-ELP-WWN
About this Custom Cook
Monster cookies are essentially peanut butter oatmeal cookies with chocolate chips and M&Ms® candies. I love peanut butter, so I added some Reece's Pieces candies, but that's completely optional. If you prefer traditional monster cookies just omit the Reece's Pieces. You can keep the dough, refrigerated, for up to 1 week or form into dough balls and freeze for up to 6 months.
1/2 cup light brown sugar, packed
1/4 cup granulated sugar
3 tablespoons unsalted butter, softened
1/2 cup creamy peanut butter
2 eggs
1 teaspoon vanilla extract
1 teaspoon baking soda
1/2 teaspoon salt
2 cups rolled oats (old-fashioned or quick-cooking)
1/4 cup semisweet chocolate chips
1/4 cup M&Ms® candies
1/4 cup Reece's Pieces candies (optional)
1. In large bowl, using an electric mixer, cream sugars and butter.
2. Add peanut butter, eggs and vanilla; mix well.
3. Add baking soda and salt; mix well.
4. Using a spatula, fold in oats.
5. Add chocolate chips, M&Ms® and Reece's Pieces, if using; stir well.
6. Scoop 6 mounds of dough (2-3 tablespoons each), evenly spaced apart, onto Brava metal tray. You should have 2 cookies in each zone.
7. Press green button to begin preheating. Once preheated, slide metal tray into top shelf and press green button to begin baking for 12 minutes.
8. When your food is done, cool cookies on wire rack for 5-10 minutes before serving.
Makes about 18 cookies.