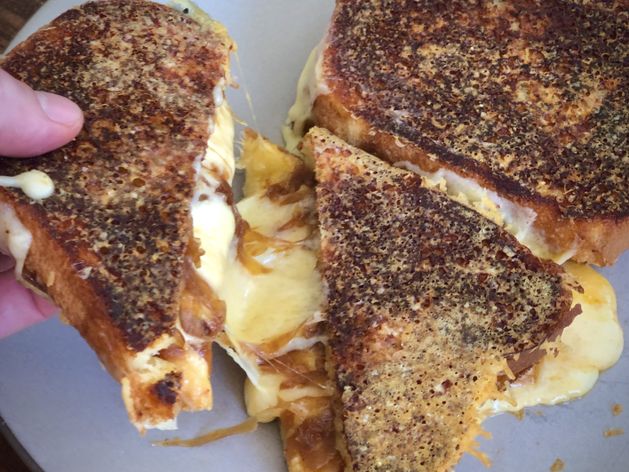 CUSTOM COOK
Parmesan-Crusted Grilled Cheese Sandwiches
Key: FTJ-YNY-TWK
About this Custom Cook
I prefer using freshly grated Parmigiano-Reggiano, but domestic parmesan cheese will work in a pinch. I used brioche for this recipe, but feel free to use your favorite sandwich bread. Since we are using bottom sear only the browning should be even regardless of bread type. I like to use 2-3 different cheeses, but it's fine if you only have 1 or 2.
4 slices bread
softened butter
3/4 cup freshly grated Parmigiano-Reggiano
sliced cheese(s) - cheddar, American, gruyere, etc.
Optional fillings like ham, bacon, caramelized onions, etc.
Spread butter on one side of each bread slice.
Spread grated parmesan evenly onto a dinner plate.
Press bread slice, buttered side down, into parmesan.
Place bread, butter/parmesan side down, in Zones 1, 2 and 3 of Brava metal tray.
Spread fillings and cheeses evenly over bread slices.
Note: you will cook this sandwich open-faced and assemble it AFTER cooking.
Slide metal tray into top shelf and press green button to begin cooking.
Once your food is done, assemble sandwiches and serve.