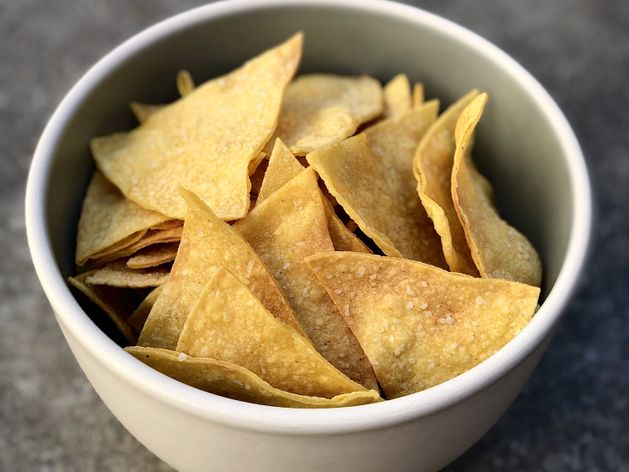 CUSTOM COOK
Tortilla Chips
Key: FLX-AXJ-WKX
About this Custom Cook
Prep Time: 2 minutes
Cook Time: 8 minutes
Total Time: 10 minutes
This is the best way to use up leftover corn tortillas. It's also healthier (and tastier!) than deep fried, store-bought alternatives. Frozen corn tortillas work well, too. Just thaw them for a few minutes on your counter before brushing with oil. You'll likely want to make a few batches, so if Brava is hot be sure to watch the subsequent batches towards the end of the cook, or just slide down the personalization slider 5-10%.
3-4 corn tortillas
vegetable oil
kosher salt
You will need:
Brava metal tray
silicone or pastry brush (optional)
1. Using a silicone brush or your fingers, brush both sides of tortillas with oil. I use about 3 large tortillas or 4 small tortillas.
2. Stack tortillas and cut into sixths.
3. Arrange tortillas on Brava metal tray. Make sure tray is completely full. It's okay if there is some slight overlap, as the tortillas will shrink during cooking. Under-filling the tray may result in burning.
4. Sprinkle tortillas with kosher salt.
5. Slide metal tray into top shelf. Press green button to begin cooking for 8 minutes.
6. When your food is done, transfer chips to serving bowl to cool for 10 minutes before serving. Cooling allows the chips to fully crisp, so don't skip on this step.