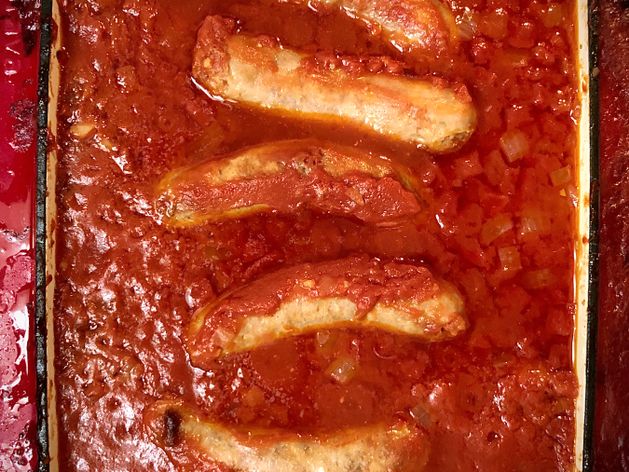 CUSTOM COOK
Sunday Sauce (aka Italian Gravy)
Key: FJW-WRY-YFL
About this Custom Cook
Sunday sauce, or "gravy", is an Italian-American classic. This is nonna cooking at it's best. It's best to brown the pork shoulder and sausages before cooking, which lends incomparable depth of flavor. You can do this in your Brava with the sear function. I recommend starting with 15 minutes top and bottom sear (all zones, NO LID!) to begin and add more time, as needed. One of the coolest features of the Brava Chef's Pan is it works on your stovetop, so if you're more comfortable browning it on your burner feel free to do so. Serve this with a big bowl of pasta like rigatoni or spaghetti, a green salad, some garlic bread and a nice red wine and you've got yourself a party.
1 1/2 lbs pork shoulder, cut into 2" pieces
1 lb Italian sausage links
1 yellow onion, chopped (1/2" pieces)
8 cloves garlic, minced
1 cup dry white wine
2 cans (28oz) whole or crushed tomatoes, preferably San Marzano
1/2 cup water
Kosher salt and pepper
You will need:
Brava Chef's Pan
Extra-virgin olive oil
1. Brown pork and sausages with a little olive oil in Brava Chef's Pan, if desired. You can do this in Brava using the sear function or you can brown it on your stovetop. This step is optional, but recommended.
2. If using whole canned tomatoes, crush them with your hands or chop with a knife.
3. In Chef's Pan combine browned pork and sausages, onion, garlic, white wine, tomatoes and juices, water and a few pinches of salt and pepper.
4. Slide Chef's Pan, covered, into top shelf. Press green button to begin cooking for 4 hours.
5. For best results, remove sausages after 2 hours (optional)
6. When your food is done,. carefully remove Chef's Pan and serve with pasta on the side.