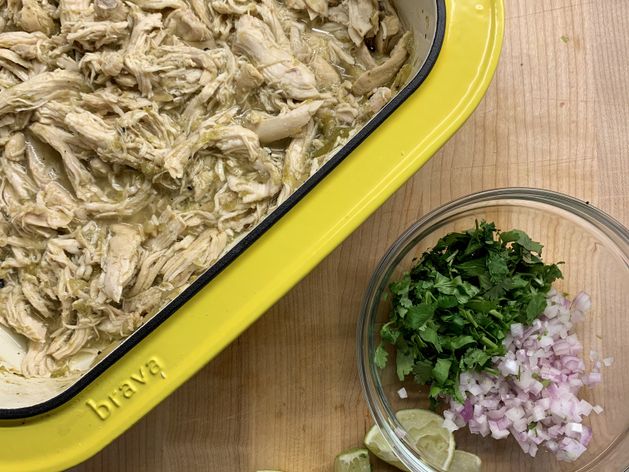 CUSTOM COOK
One Pot Shredded Chicken
Key: FFL-NAM-EJC
About this Custom Cook
I love any recipe I can make once to repurpose in many different meals. Enter my Brava one pot shredded chicken! Simply place chicken in your Brava Chef's pan, cover with tomatillo salsa, and press that green button. Once the chicken is done cooking, you'll shred it up to use in healthy grain bowls, tacos, wraps, on salads, burritos, scrambles - you name it. I cook this with tomatillo salsa because it's flavorful and I always have it in my pantry, but you could use any of your favorite sauces. I love making this recipe in my Brava because if I were to do this any other way, I would need to bring everything to a boil and hover over my stovetop until the chicken cooks, and/or then finish cooking it on my conventional oven. I programmed this recipe to essentially simulate those two steps but in one recipe for you; Brava brings this up to temp with a high sear power, then automatically shifts to a lower temperature to finish with a simmer. I pop this in before conference calls and I have a healthy dish ready for tons of dishes by the time I'm done!
Ingredients:
2 lbs of boneless and skinless chicken breasts or thighs
1 and 1/4 cup of store-bought tomatillo salsa (or any savory cooking liquid, such as your favorite sauce, broth, water with onions and garlic, red sauce - whatever you want)
Instructions:
1. Place chicken and cooking liquid in chef's pan with the lid. Put on top shelf and follow recipe instructions.
2. When done cooking, use 2 forks to shred chicken. Cool, and store leftovers in the cooking liquid in the chef's pan or tupperware. Repurpose in tacos, salads, sandwiches, grain bowls, wraps, scrambles, quesadillas and enchiladas - whatever you want!