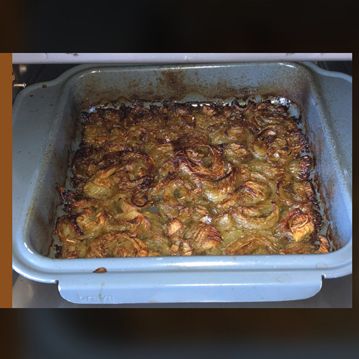 CUSTOM COOK
CARAMELIZED ONIONS-1114 P
Key: EXX-ECL-UKN
About this Custom Cook
This is the simplest way to make great tasting caramelized onions. And the best part of this cook is that no stirring is required! You put the pan in the Brava, press start and come back later and they are done. What could be easier!
Cut up 2-3 large onions, or 4-6 medium onions, place in the square pan (should be about 3/4s full), add 1 cup water, drizzle 1/3 cup of ghee over the top, place the tray in the Brava, start the cook.come back 2 1/2 hours later...
The cook takes just over two hours. Let it sit for 10 to 15 minutes after the completes and then check the level of browning. If you need more Browning, just add additional bake time at 400°. I wouldn't do more than 10 minutes at a time, the browning occurs pretty fast at this point.