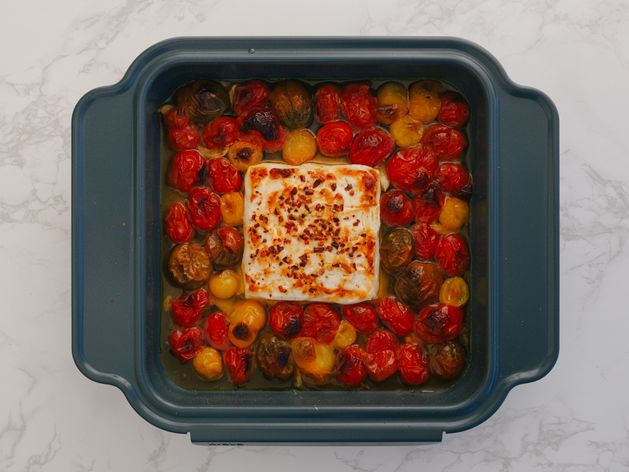 CUSTOM COOK
Baked Feta Pasta
Key: EXM-TWH-HJW
About this Custom Cook
This recipe comes all the way from Finland from blogger and recipe creator Jenni Häyrinen. Her "uunifetapasta" launched a craze in Finland that's now reaching American shores, and what better way to make it than in the Brava!
You can find the English-translated recipe on her blog Liemessä® here: https://liemessa.fi/2020/09/baked-feta-pasta-original-recipe/
Ingredients:
- 7 or 8oz block feta cheese
- 1lb cherry tomatoes
- 1/2 cup olive oil, and more to drizzle
- 4 cloves garlic, sliced in half lengthwise (optional)
- a few big pinches of red pepper flakes
- salt
- black pepper
- 1/2 to 1lb pasta of your choice
- fresh basil leaves, sliced thinly
Recipe:
- Add 1/2 cup olive oil to the Brava Square pan. Add tomatoes, mixing them in the oil. Nest the block of feta in the center.
- Drizzle olive oil over feta, and add red pepper flakes on top of the cheese. Sprinkle salt and pepper to your taste over everything.
- Follow Brava instructions.
- Meanwhile, boil the pasta according to package instructions.
- When the feta is done baking and searing, remove from Brava. Stir to incorporate feta into oil to make a sauce.
- Add cooked, drained pasta to Square Pan and mix to combine.
- Top with basil and enjoy!