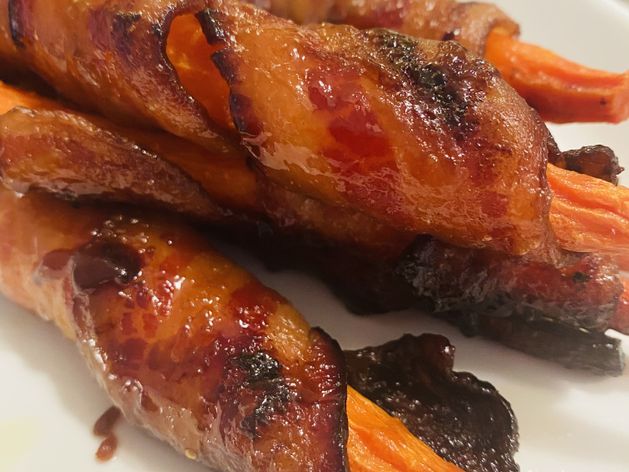 CUSTOM COOK
Brown Sugar Glazed Bacon Wrapped Roasted Carrots
Key: EPT-CWK-LFY
About this Custom Cook
Ingredients:
1 lb. medium carrots, peeled
About 1/2 lb. bacon
2 Tblsp. brown sugar
1 Tblsp. maple syrup
1 tsp. Dijon mustard
Instructions:
Press green button to pre-heat Brava.
Wrap each carrot tightly with a slice of bacon. If the carrot is short, use only half a slice of bacon.
Place aluminum foil on your Brava baking sheet and place carrots on sheet. Press green button to start cooking.
In the meantime mix brown sugar, maple syrup and mustard together in a small bowl.
Your Brava will pause half way through the cooking process. You can now remove the tray and, using a pastry brush, dab a good amount of brown sugar mixture on top of each bacon wrapped carrot.
Place your tray back in the Brava and finish cooking until bacon is done and brown sugar is caramelized.
Note: If you use a thicker cut of bacon, cook longer until done to your liking.