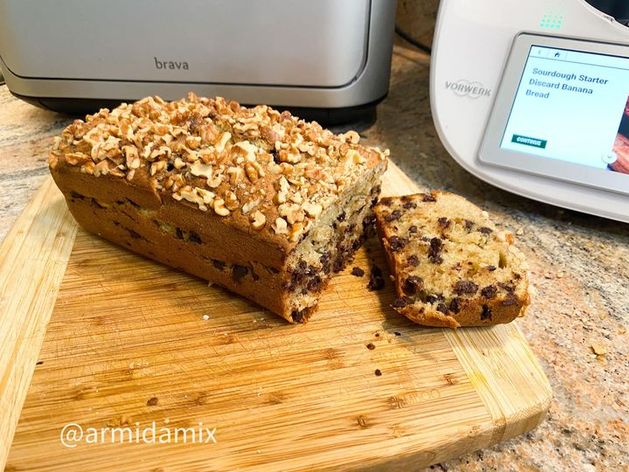 CUSTOM COOK
Sourdough Starter Banana Bread
Key: ELF-TTE-LTP
About this Custom Cook
Follow me on Instagram for more recipes: @armidamix
Ingredients
7 ½ oz sugar
4 oz unsalted butter, in pieces, softened
10 oz bananas (approx. 3), in pieces
8 oz sourdough starter discard (unfed), room temperature
1 large egg
1 tsp vanilla extract
7 ½ oz all-purpose flour
1 ½ tsp baking soda
1 tsp cinnamon
½ tsp salt
5 oz semi-sweet chocolate chips or 5 oz chopped pecans
Preparation
1. Place sugar and butter into bowl and mix.
2. Add bananas, starter discard, egg and vanilla and mix 20 seconds. Scrape down sides of mixing bowl with spatula.
3. Add flour, baking soda, cinnamon and salt and mix 20 seconds.
4. Pre-heat Brava using the Bake function at 350F.
4. Add chocolate chips, fold in with spatula to combine and transfer mixture to loaf pan.
5. Bake 50-60 minutes (350°F), until a toothpick inserted into center of loaf comes out clean. Let cool completely before serving.