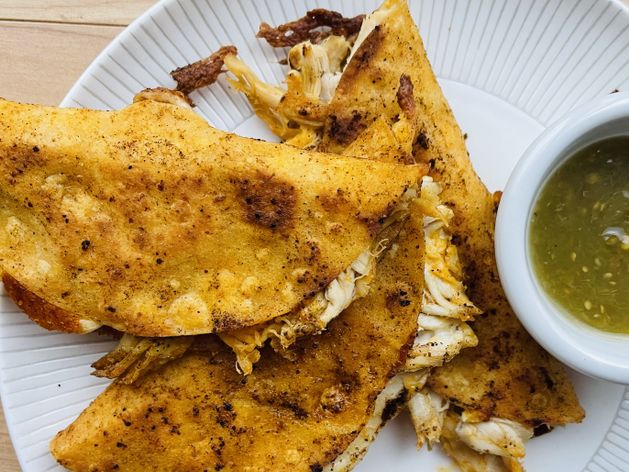 CUSTOM COOK
Easy Air Fryer Chicken Tacos
Key: EFX-CYM-RFT
About this Custom Cook
Ingredients:
1 C. shredded rotisserie chicken
2 tsp. Taco Tex Mex seasoning, divided
1 Tblsp. vegetable oil
3 corn tortillas
1/2 C. shredded Mexican blend cheese
Salsa for serving
Directions:
In a medium bowl mix chicken and 1 tsp. seasoning until combined. Set aside.
Mix remaining 1 tsp. seasoning with vegetable oil. Brush oil on one side of each tortilla and place all three tortillas on your Brava metal sheet pan. Sprinkle cheese evenly on all three tortillas and place in your Brava's top rack. Press the green button.
After 3 minutes your Brava will ask you to place the shredded chicken on half of each taco. Then carefully fold shut, like a book. Be careful as tortillas are hot. Place back in Brava and press green button.
After 5 minutes Brava will ask you to flip each taco and press the green button again.
Allow to cook for 2 more minutes then allow to cool for 5 minutes before serving with your favorite salsa.