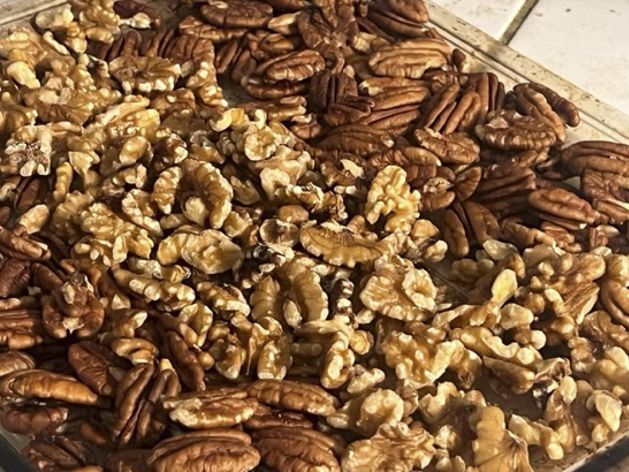 CUSTOM COOK
DRY ROASTED Pecans/Walnuts and other smaller nuts
Key: ECJ-TXK-RAK
About this Custom Cook
Use this cook to dry roast smaller nuts like pecans, walnuts, pistachios, peanuts, etc.
Dry roasting nuts adds/enhances the flavor of the nuts and also makes them healthier. While dry roasting nuts is not complicated, Brava makes the process of dry roasting nuts extremely easy. And fast too! In fact, there is no better way to dry roast nuts at home than with your Brava. PLUS, it also $AVE$ MONEY with certain varieties.
I discovered dry roasted nuts a few years ago. I enjoy nuts regularly and now only enjoy them dry roasted. 'Regular' roasted nuts have oils added to them which is why I avoid them.
At the push of a button, you can dry roast your favorite nuts.
INSTRUCTIONS:
Download this custom cook to your Brava.
You will need the glass tray for this cook.
Spread the nuts across the glass tray in a SINGLE LAYER. Try not to have them overlap each other but it is ok if they do a bit. You do not have to fill the zones completely or evenly. Their position on the tray does not matter. Again, try not to have them overlap each. If you place a really thick, dense layer of nuts on the tray, they will likely not dry roast properly.
IMPORTANT:
This cook begins with a brief REAPID PREHEAT, only about 5 minutes. Make sure there are no trays inside your Brava. Start this custom cook by pushing the flashing green START BUTTON.
The Brava will preheat the interior. Once the preheat completes, you will be prompted to insert the glass tray. Insert it on the TOP level. Press the Start button again to restart the cook.
When completed, the cook will stop. Check the doneness. Taste a couple (blow on them a bit to cool them down). If you are happy with them at this point, remove the tray using heat resistant gloves. Let them cool, then place them in a bag or jar to store them.
If you feel they need to be roasted more, press the Start button. The nuts will roast for an additional few minutes then stop. Check the doneness again. This step can be repeated a couple of more times until you find the doneness you like.
ENJOY!