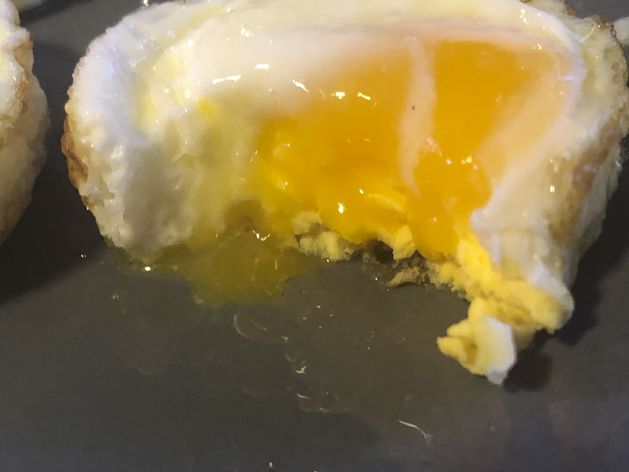 CUSTOM COOK
EGGS )))))))))))))>>>> Muffin Pan
Key: CJJ-TEL-MEE
About this Custom Cook
This cook uses the Muffin Pan to make delicious eggs that are nicely browned on the bottom and very 'soft' on top.
I typically use large eggs and have tuned this cook for large eggs. If you use larger or smaller eggs, you may need to make slight adjustments to the cook time using the adjustment slider. Different cooking oils may also give you slight differences in cooking results. Also, you may need to personalize the cook to your personal preferences. Doing so is simple using the adjustment slider. I suggest you use it once without any adjustment and see the results, and then, if necessary, use the adjustment slide for your next cook the next time you use this cook.
IMPORTANT: When you slide the muffin pan into your Brava, you MUST slide it all the way in. This is listed in the instructions below but felt if was important enough to include the alert here as well.
Preparation:
Place a small amount of your favorite cooking oil in each 'cup' you plan to add eggs to. I prefer and use ghee and suggest you do to, but it is not absolutely necessary. I typically make 2-3 eggs at a time, and usually split the cups between the front and back and left and right sides. In reality the cups you choose to use doesn't really matter.
Optional: Sprinkle a bit of salt in each cup you added your cooking oil to. If you like pepper, you can also add a bit of pepper as well.
Add the eggs to each cup you have prepared.
Optional: Sprinkle a bit of salt on top of each egg. If you like pepper, you can also add a bit of pepper to the tops as well.
Cooking Instructions:
Load this custom cook into your Brava. Key: CJJ-TEL-MEE or select the 'paper airplane' icon on your mobile device or computer.
Slide the Muffin Pan Tray into your Brava, top level. You MUST slide it all the way in.
Go through the summary screens. Once the start button turns green, press it to start the cook.
|
|
|
Depending on the size, number of eggs you use, and how you like your eggs cooked, you may need to use the adjustment slider for future cooks. These eggs are pretty soft on the top side. If you prefer them more done, simply slide the tray back into the top level, all the way in, and touch up with the sear function, top level, zones 2 and 3 only. Time will vary of course depending on your preferences so I would only do short periods of time so you don't overcook your eggs.
Enjoy.