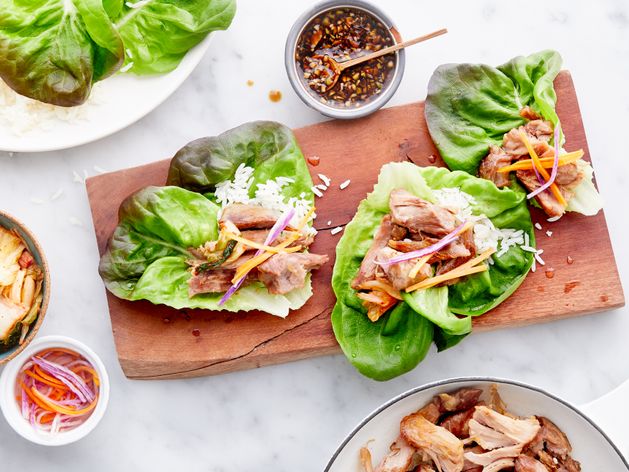 Ingredients
Slow-roasted pork shoulder
Butter lettuce
Cooked white rice
Pickled carrots & radishes
Kimchi
Scallion-ginger sauce
From Your Pantry
Equipment
Brava metal tray
Brava glass tray
Nutrition Information
Allergens: None
Tags
Lunch
Dinner
Meal Kit
Good Eggs
Dairy Free
Glass Tray
Gluten Free
Metal Tray
Pork
Two Trays
Weeknight
Nutrition Information
Allergens: None
Keywords
Lunch
Dinner
Meal Kit
Good Eggs
Dairy Free
Glass Tray
Gluten Free
Metal Tray
Pork
Two Trays
Weeknight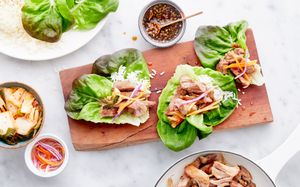 1
Instructions
Place pork shoulder on Zones 1, 2 and 3 of metal tray. Using a fork, flake apart any large pieces.
Evenly spread rice in a single layer across Zones 1, 2 and 3 of glass tray and sprinkle with 3 tablespoons of water.
Slide metal tray into top oven shelf and glass tray into bottom oven shelf.
Select "Good Eggs Korean Pork" on oven touchscreen and follow instructions.
While food is cooking, set out the pickled carrots and radishes, kimchi, and scallion-ginger sauce for serving.
When your food is done, remove both trays and gently fluff the rice with a fork. To build the Korean-style lettuce cups, place the lettuce leaves on plates, and fill with the rice, pork, pickles, and kimchi. Drizzle with the scallion-ginger sauce and serve.