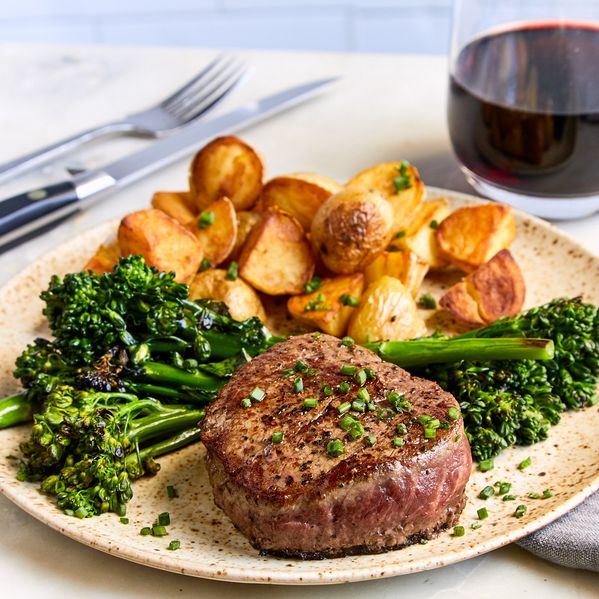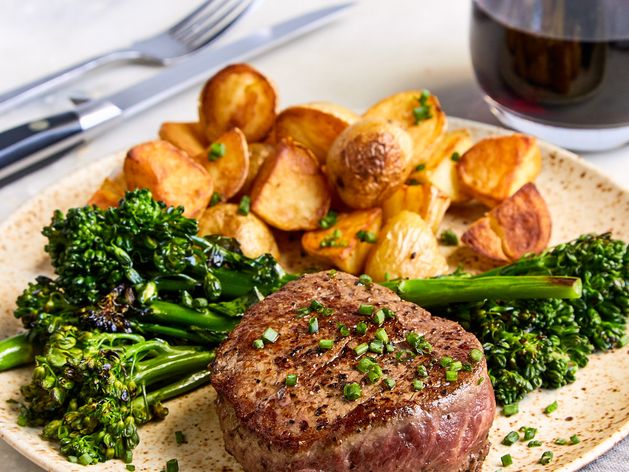 Ingredients
½ lb organic baby potatoes
5 oz baby broccoli
2 Double R Ranch Signature filet mignon steaks (about 6 oz each and 1¾ inches thick)
¼ oz fresh chives
From Your Pantry
cooking oil
kosher salt and black pepper
flaky finishing salt (optional)
Equipment
Brava metal tray
Brava TempSensor
mixing bowl
Nutrition Information
Allergens: None
Tags
Dinner
Meal Kit
All American
Beef
Dairy Free
Date Night
Gluten Free
Metal Tray
Signature Entree
Weeknight
Nutrition Information
Allergens: None
Keywords
Dinner
Meal Kit
All American
Beef
Dairy Free
Date Night
Gluten Free
Metal Tray
Signature Entree
Weeknight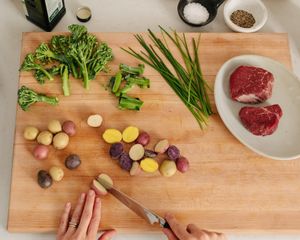 1
Prep potatoes & baby broccoli
Cut potatoes into 1-inch pieces. In medium bowl, toss together potatoes, 1 teaspoon cooking oil and a pinch of kosher salt.
Evenly spread potatoes in Zone 3 of Brava metal tray.
Trim bottom ½ inch off baby broccoli stems and discard. If stalks are wider than your pinky finger, cut in half lengthwise.
In same bowl, toss together baby broccoli, 1 teaspoon cooking oil and a pinch of kosher salt.
Arrange baby broccoli in Zone 1 of metal tray.
Pro Tip: Be sure to arrange baby broccoli in a single layer; if stacked too high, it will burn. Place broccoli florets toward the outside edge of the tray, with stems facing the middle.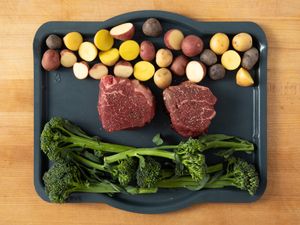 2
Prep steaks
Pat steaks dry with paper towels. Season steaks on both sides with a pinch of kosher salt and pepper.
Place steaks in Zone 2 of metal tray. Make sure thinnest steak is on left side of Zone 2.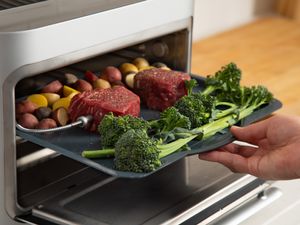 3
Slide metal tray into top oven shelf
Select "Filet Mignon and Potatoes" on your oven touchscreen and follow instructions.
After plugging in TempSensor, insert it horizontally through center of steak.
While food cooks, finely chop chives and set aside garnish.
4
Serve
When your food is ready, slice steaks. This will stop the cooking process and maintain your preferred doneness.
Arrange steaks, potatoes and baby broccoli on individual plates.
Sprinkle steaks and potatoes with chives. If desired, season with flaky finishing salt.