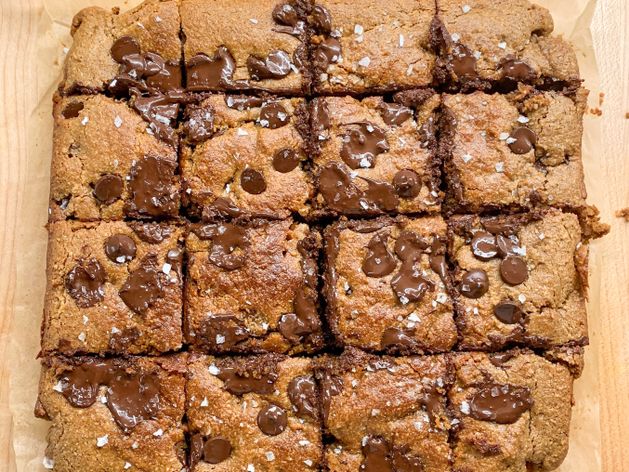 CUSTOM COOK
Healthyish Chocolate Chip Blondies
Key: KKA-AKR-CPL
About this Custom Cook
This recipe for Chocolate Chip Blondies with Flaky Salt is going to be on repeat in my Brava. The ingredients are simple, and while I don't follow any particular diet, these turned out to be paleo, gluten free, dairy free, and refined-sugar free. My main tip is to add more flaky salt after baking than you think you need. The combination of sweet and salty in every bite makes for a decadent tasting treat. As a note, the recipe calls for 1/2 cup of maple syrup, honey, or date syrup, which lends a mellow sweetness; feel free to add more sweetener or more chocolate chips if you have a major sweet tooth. Enjoy!
Makes 16-20 blondies depending on how you slice them
Ingredients:
Dry Ingredients:
3 cups almond flour
1/2 cup dark chocolate chips (+ more for topping later)
1 teaspoon ground cinnamon
1/2 teaspoon baking soda
1/2 teaspoon kosher salt
Flaky salt
Wet Ingredients:
2 eggs
1/2 cup coconut oil, melted and cooled
1/2 cup creamy peanut butter (or almond butter to keep it paleo)
1/2 cup sweetener - maple syrup, honey, or date syrup all work
2 and 1/2 teaspoons vanilla extract
Instructions:
1. In a large mixing bowl, whisk together dry ingredients.
2. In a separate mixing bowl, whisk together wet ingredients.
3. Gently fold the wet ingredients into the dry.
4. Pour mixture into a greased Brava square pan.
5. Top with a generous handful of chocolate chips, and lots of flaky salt.
6. Follow recipe instructions - the recipe will prompt you to preheat for several minutes while keeping the Brava empty. Then, you'll put the Brava square pan on the top shelf and follow the recipe instructions.
7. Enjoy!