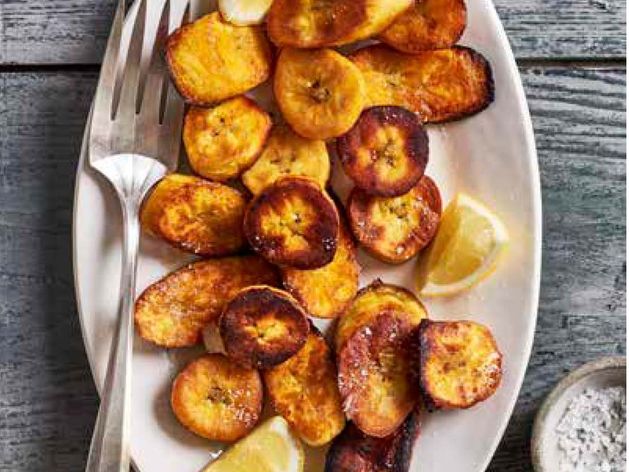 CUSTOM COOK
ndizi Kaanga (Fried Plantains)
Key: HMU-TFJ-CPM
About this Custom Cook
Adapted and reprinted with permission from "In Bibi's Kitchen" by Hawa Hassan with Julia Turshen, copyright © 2020. Photographs by Khadija M. Farah & Jennifer May. Published by Ten Speed Press, a division of Penguin Random House, LLC.
--------------
As Ma Vicky taught us, plantains are a huge part of Tanzanian cooking, and there are tons of varietals and different ways of preparing each. These simple fried plantains are best made with bright yellow plantains that are somewhere in between the firm, starchy-green under- ripe plantains and the super-soft, super-sweet, almost-black overripe plantains. Fried in a little butter (or ghee) and finished with a splash of fresh lemon juice and a sprinkle of both salt and nutmeg, these plantains ride the line between sweet and savory. Serve on their own for a snack or alongside Zanzibar Pilau (Rice Pilaf), cooked vegetables, and grilled meat or fish for a complete meal. You could even sprinkle them with a bit of brown sugar as they cook, finish them with a splash of rum, and serve with vanilla ice cream for a Tanzanian version of bananas foster.
--------------
Serves 4
--------------
Ingredients
3 tablespoons unsalted butter (or ghee)
3 cups yellow plantains, peeled and cut into 1/2-inch-thick pieces on the diagonal
2 tablespoons lemon juice, freshly squeezed
½ teaspoon kosher salt
Pinch of nutmeg
--------------
Directions
1. On the Brava Metal Tray, coat with butter or ghee. Fill Zones 1, 2, and 3 with plantain pieces. Flip them so both sides are coated in butter.
2. Follow directions on the screen. Place Metal Tray on the top shelf and press the green button.
3. When Brava notifies you, carefully remove the Metal Tray.
4. Transfer the plantains, cut sides up, to a serving platter and drizzle with the lemon juice and sprinkle with the salt and nutmeg.
5. Serve immediately. Leftovers can be stored in a container in the refrigerator for up to a few days and reheated in the Brava.