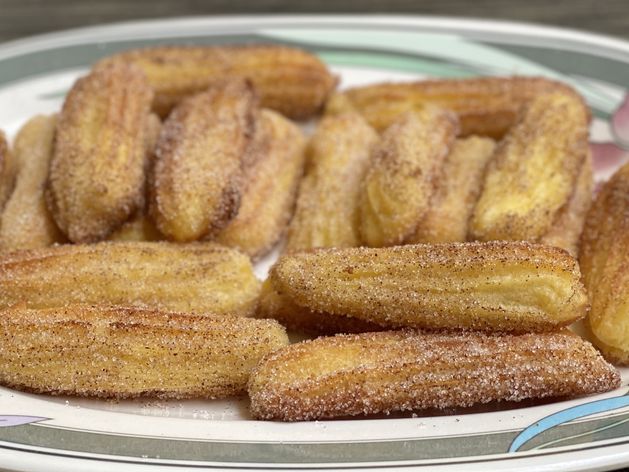 CUSTOM COOK
Airfry Mini Churros
Key: EMJ-KKJ-CAT
About this Custom Cook
INGREDIENTS:
1/3 cup water
1/3 cup unsalted butter
a pinch of salt
1/3 cup all purpose flour
1large egg
1/3 cup granulated sugar
1 tablespoon cinnamon
INSTRUCTIONS:
Place water, butter (cut into pieces), and salt in a saucepan. Heat over medium heat until butter is melted and stir occasionally until mixture boils.
Turn off the heat and stir in the flour. A thick paste will form. Make sure to do this off the heat and off the stove, so that the mixture can cool as you stir it.
Add egg when mixture is cool down a bit, mixing well (work fast to avoid cooking the eggs). It'll seem like the eggs don't want to mix in but they will. It will become a shiny dough.
Place the churro batter in a large pastry bag fitted with a star or 1M tip.
Spray oil onto the Glass Tray. Pipe churros in desired size onto the Glass Tray. (This recipe makes approximately 20 3-inch long churros). Spray some oil on the batter.
Place Glass Tray on the top rack and press the Green Button.
Mix sugar and cinnamon together.
When Brava notifies remove churros and mix with the sugar mixture.