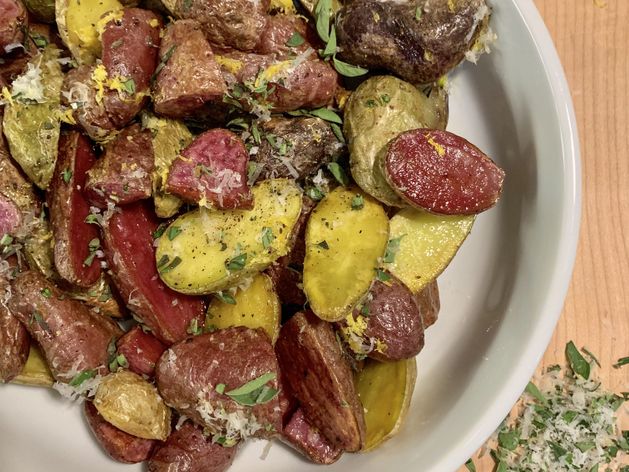 CUSTOM COOK
Fingerling Potatoes with Oregano, Parmesan, + Lemon
Key: EJJ-XXX-MNH
About this Custom Cook
This easy twist on roasted fingerling potatoes is my new favorite way to enjoy them. I added a few minutes of top sear to Brava's existing roasted fingerling potato recipe for extra crispiness, and saved it as a custom cook. I add fresh oregano, lemon zest, grated parmesan, and flaky salt to pull it all together. Serve on the side of a roasted protein for a complete meal!
Ingredients:
24 oz bag of fingerling potatoes
Olive oil
Salt
Pepper
Zest of 1 lemon
2-3 Tablespoons freshly grated parmesan cheese
2-3 Tablespoons chopped fresh oregano
Optional - flaky salt.
Instructions:
1. Slice fingerling potatoes in half lengthwise.
2. Toss potatoes in olive oil, salt, and pepper.
3. Place potatoes evenly throughout Brava Metal Tray.
4. Place tray on top shelf, and follow recipe instructions.
5. While potatoes are roasting, grate parmesan, grate lemon zest, and chop up a few pinches of fresh oregano.
6. When potatoes are done roasting, transfer into a serving bowl, toss with parmesan, lemon zest, and oregano. Top with flaky salt and more freshly cracked black pepper. Serve!