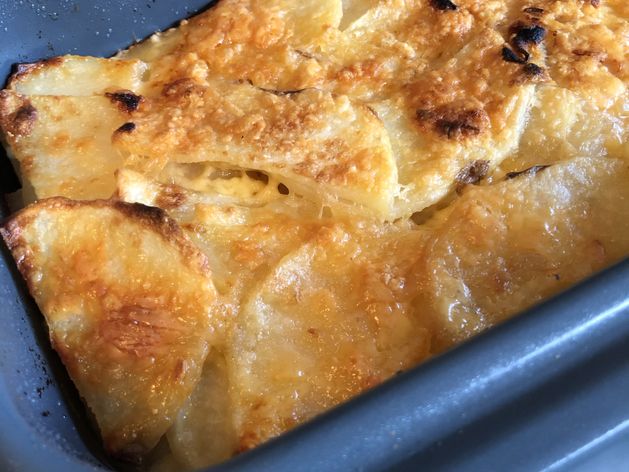 CUSTOM COOK
Potato Gratin (Loaf Pan)
Key: CRU-AWE-NXC
About this Custom Cook
Use any cheese you like. Gruyere and fontina would be great in this recipe. This gratin is thicker than most, so you can slice it ike a meatloaf! If you have leftovers, the slices are fantastic reheated on Brava metal tray for about 5 minutes.
2 tablespoons butter, softened
2 large russet potatoes, thinly sliced on mandoline
kosher salt and pepper
1-2 cups freshly grated cheddar cheese
1/2 cup freshly grated Parmigiano-Reggiano
1 1/2 cups heavy cream
Grease Brava loaf pan with butter.
Arrange a layer of potato slices in bottom of loaf pan, shingling the slices until bottom of pan is covered. Sprinkle potatoes with salt and pepper. Sprinkle thin layer of cheddar and Parmigiano. Continue layering potatoes, salt, pepper and cheeses until ingredients are used up, finishing with a layer of cheeses on top.
Press green button to begin preheating.
Pour cream over top and press down firmly on potatoes.
Cover with foil. When Brava notifies you, slide loaf pan into top shelf and press green button.
About 75 minutes later, when Brava notifies you, carefully remove loaf pan and remove foil cover. Slide loaf pan, uncovered, into CENTER of top shelf. Loaf pan should be directly under top center lamp. Press green button to continue.
When your food is done, rest gratin in pan for 10-15 minutes before slicing and serving.